The way you decorate a room can affect your mood, with different colours and textures evoking a variety of feelings. Most people will want their bedroom to be a calming and relaxing space that will help them get a restful night of sleep. One way of achieving this is by picking furniture made with natural materials, which provide a simplistic style, with light, airy designs. 
We share some of our favourite natural furniture for the bedroom, so you can create a soothing space to sleep. 
Laholm Dressing Table
The Laholm Dressing Table offers a minimalist style for natural or Nordic-inspired spaces. If you want to keep your bedroom calm and clean, this simple dressing table will keep your makeup and trinkets contained within its elegant design. Made with solid oak and veneers, this light wood brings a natural feel to your bedroom.
Pair this sleek dressing table with the Laholm Dressing Table Mirror for the perfect finishing touch. 
Saharsa Cane & Mango Wood Bed
The Saharsa Cane & Mango Wood Bed is pure Scandi style and perfect for those seeking a more natural feel to their sleeping space. Both practical and with a striking elegance, the Saharsa bed is made with a combination of mango wood and hand-woven light cane for a characterful addition to your bedroom that is sturdy and attractive.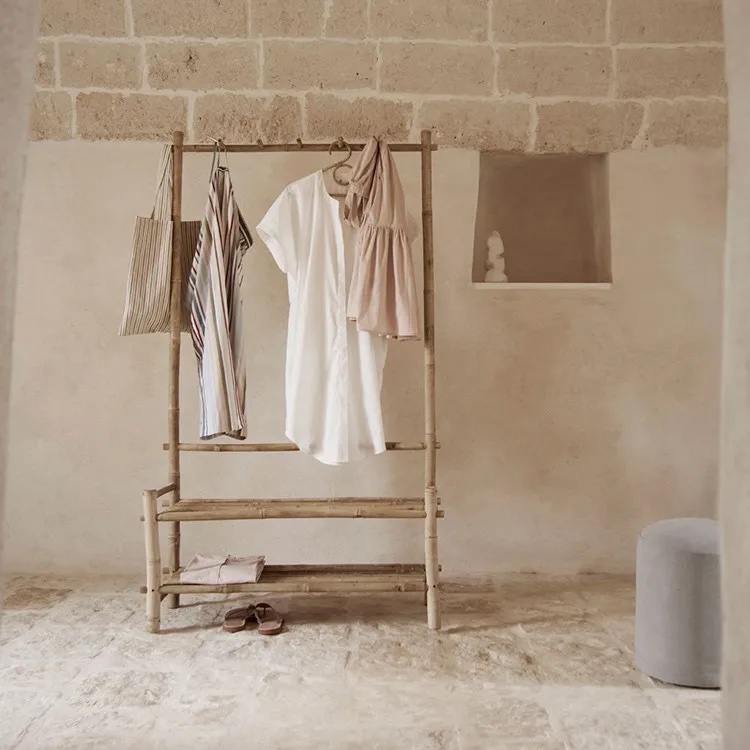 Tine K Home Bamboo Freestanding Clothes Rail
Bamboo is a fantastic material for those wanting to incorporate nature into their homes. As a natural material, bamboo is surprisingly strong and can be used for shelving and storage, as well as chairs and tables. The Tine K Home Bamboo Freestanding Clothes Rail provides storage space for your clothing, linens and shoes, while maintaining a clear connection to nature with its simplistic and raw design.  
Cuun Natural Rattan Dining Chair
Whether you want a place to relax and read a book or the inevitable bedroom 'clothes chair', the Cuun Natural Rattan Dining Chair is a great choice for a natural bedroom. Made from light rattan, the chair brings an airy feel to your space. Add a cosy throw and a couple of cushions, and enjoy a comfy nook in your bedroom. 
Bloomingville Mariana Pine And Rattan Wardrobe
With light weaved rattan and pine, the Bloomingville Mariana Pine And Rattan Wardrobe is the epitome of Scandi simplicity and ideal for a bedroom that seeks a natural feel. Airy and light, the wardrobe provides storage space, without compromising on the natural style.
Nordal Bali Natural Rattan Room Divider
Create a dedicated dressing space in your bedroom with the Nordal Bali Natural Rattan Room Divider. Made from rattan, the room divider brings a nice natural touch to your space. As well as providing a space to change, you can also use the divider to hold onto a few accessories.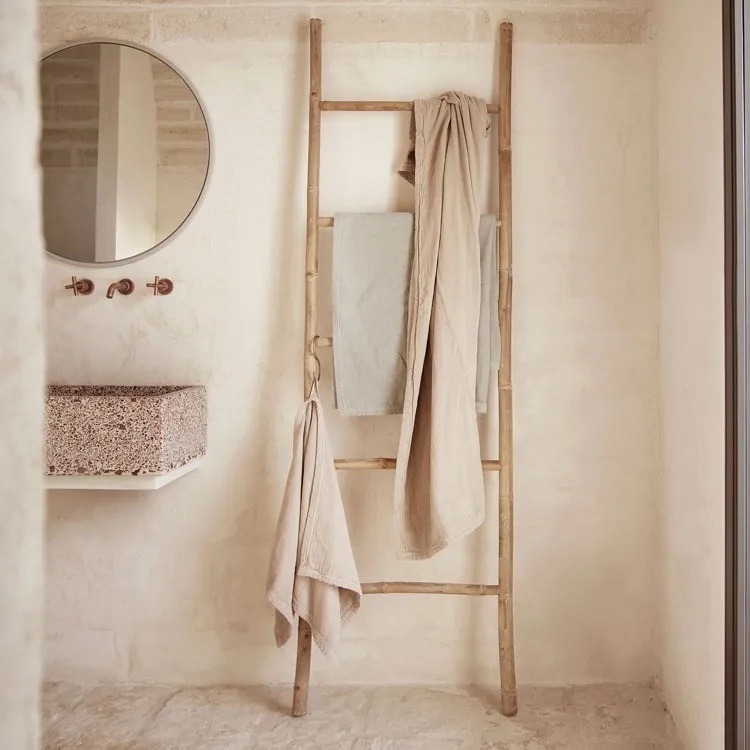 Tine K Home Bamboo Towel or Clothes Ladder
If you have an en-suite bathroom, continue the natural theme throughout by adding the Tine K Home Bamboo Towel or Clothes Ladder for a unique way of keeping your textiles off the floor. 
Made from bamboo, the ladder exudes natural charm and can add extra storage space to your natural bedroom whilst also adding to the overall vibe. The ladder can also be used in a decorative way too, with fairy lights, hanging plants and other decorations added to the ladder for an interesting effect that enhances the natural theme. 
For more bedroom inspiration with a natural feel, take a look at our boho bedroom decor ideas.
Comments (0)
No comments at this moment
New comment