Whether you're decorating a new house or looking to give your home a bit of refresh, the Boho style might be something you are considering for your interior design. 
The Boho interior trend has remained popular for home decor over the years and is great for those who want a quirky yet chic feel to their space. 
Not sure if the Boho style is for you or how to achieve it in your home? We explore the essentials of the Boho interior trend and share ways for you to incorporate this style into your home. 
What is Boho Interior Style?
Boho style offers a relaxed, cosy, lived-in style with an eclectic mix of furnishings, colours and textiles. It is the opposite of minimalistic and doesn't involve having perfectly matching furniture or colour themes. 
In terms of style and design, it calls back to the hippie style of the 1960s and '70s, as well as the boho-chic trend from the 2000s, while allowing people to express their own sense of individuality through their interior.
How to Approach Designing a Boho Interior Style
If you want to design your home's interior with the Boho trend in mind, you'll want to decide if you're going full Boho or introducing elements of the style in a more subtle way. 
Going for a full Boho home? Don't hold back on using a mishmash of colours, textures and patterns. 
Alternatively, you can add a few bohemian touches, such as baskets, rattan furniture or macrame wall hangings, to a neutral room for a chic and subtle nod to Boho style. 
Key Elements of a Boho Interior Trend
A Variety of Texture
Layers of texture are essential for a Boho interior. Consider a variety of textures and fabrics such as natural fibre rugs, macrame wall hangings and woven seagrass baskets. For furniture, wood, bamboo, wicker, and rattan are classic Boho choices. Extra texture can be gained from Persian rugs and upholstery, such as velvet sofas or fabric futons. 
More is more when it comes to adding texture to a Boho space, so cover your sofas in throws and pillows, cover your walls in tapestries and hangings, and layer rugs on the floor.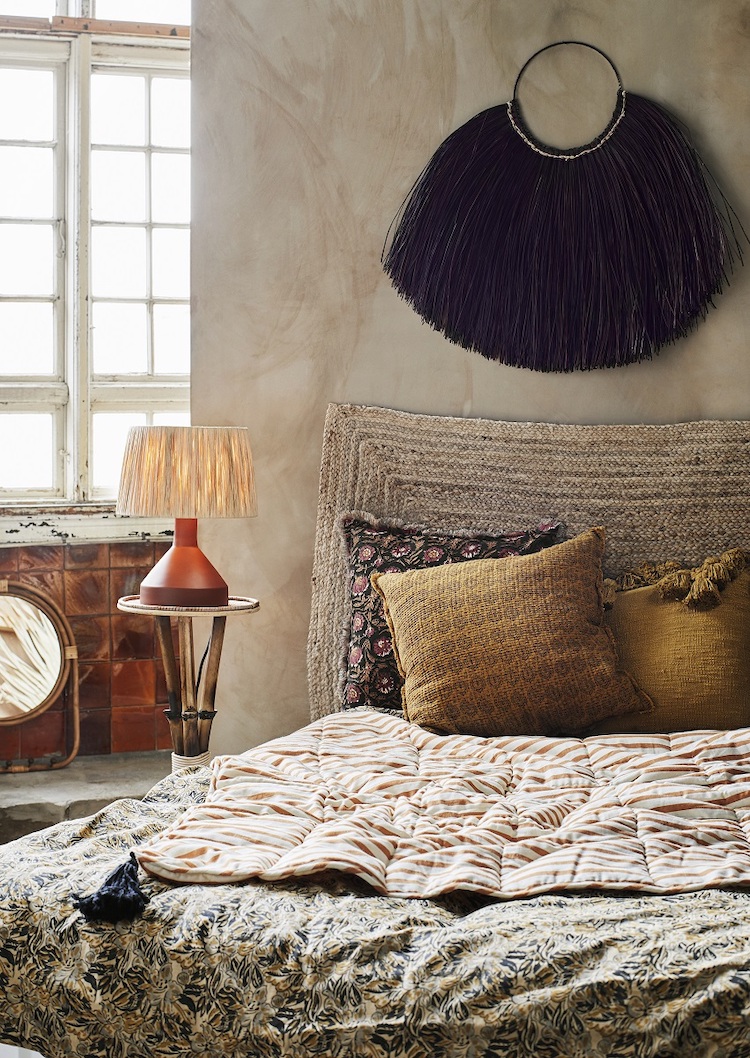 Alternative Seating Options
While a standard sitting room would typically involve a sofa and armchairs, it doesn't have to be the way for a Boho home. Taking inspiration from Moroccan decor, the Boho interior trend prioritises lower level seating, such as pouffes, floor pillows, bean bags and ottomans, making for more of a communal seating feel. 
That's not to say you can't have a nice sofa too, but consider adding a more laid-back, casual seating option as well. 
Opt for Brighter Wood Tones
A Boho home is bright, cosy and colourful, so avoid choosing darker woods or black furniture to fill your space. Instead, choose bleached wood, orange and light brown tones for your bulkier furniture pieces. 
Lighter-toned woods bring a brighter, airier feel to a space and can act as a perfect neutral base to enhance with Boho decor and trinkets.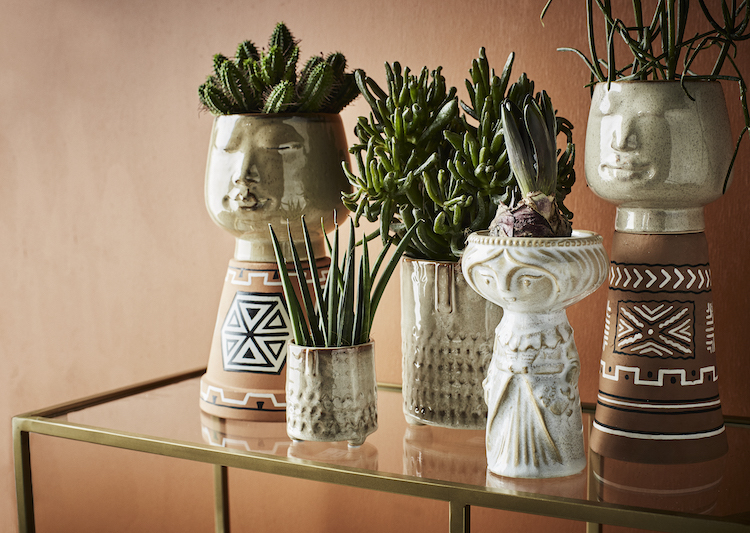 A Jungle of Plants
Greenery is a staple of the Boho aesthetic, bringing a touch of real nature to your space. The goal for many looking to create a Boho home is to have a 'jungle' feel in some areas of the home.
Free spaces in your room can be filled with plants; large baskets with Monstera or palms in the corner of the room, cacti or succulents across spaces on shelves, and vines and hanging plants across walls and ceilings.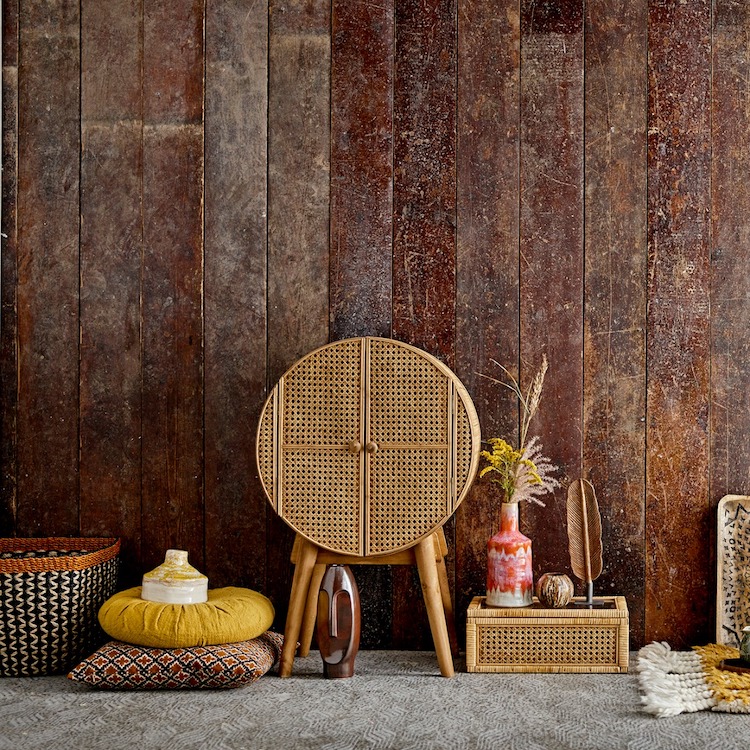 What Furniture to Use in a Boho Interior?
Furniture tends to be the biggest and most noticeable elements of your room, so if you are aiming for a strong Boho theme for your home, you'll need to find furniture that suits this interior trend. 
Seek items made from wicker, rattan, wood and bamboo to instantly add a Boho feel to your space. Check out our guide to storage solutions for a Boho home to see how you can even make your cabinets, shelves, and wardrobes suit the Bohemian aesthetic. 
In addition, upcycled, vintage and repurposed pieces can work well in a Boho interior.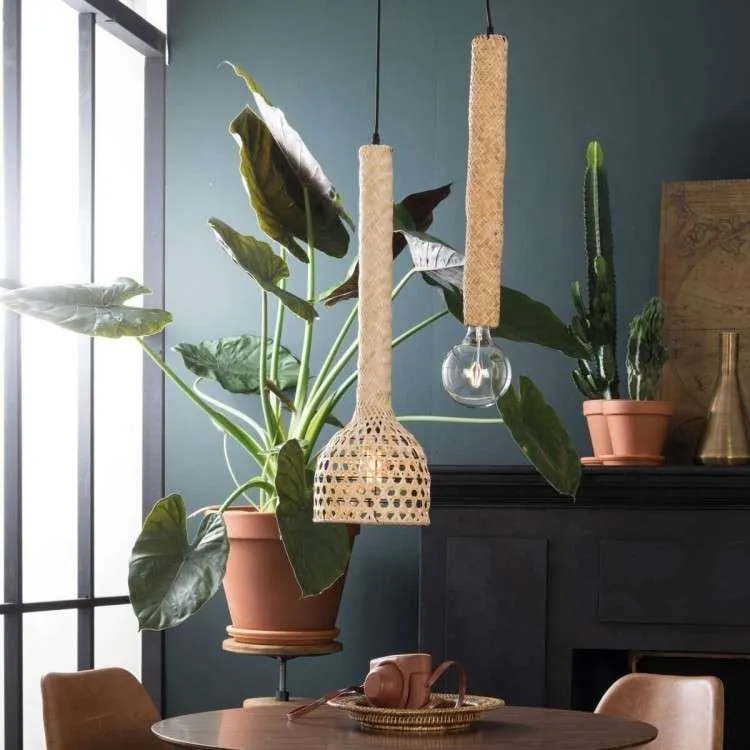 What Lighting to Use in a Boho Home Interior
Lighting can make or break a room, so getting your choices right can really help with cultivating the perfect Boho feel. String lights and candles will bring a soft glow that can instantly make a room seem cosier and welcoming, making them great options for a Boho interior. 
Lanterns can provide additional lighting while being in keeping with the aesthetic theme. 
If you have standard light fittings, then a natural woven pendant shade, such as the Dutchbone Nana Pendant Light, which is made from braided dried banana leaves, would be a fantastic choice for adding a Boho feel to your space without having to change too much. 
To make lighting more of a focal point in your Boho home, then you could also consider a more stand out shade, like the Dutchbone Boo Braided Bamboo Pendant Light.
What Colours to Use for a Boho Interior
Ultimately, any colour can be incorporated into a Boho home, with colourful statement walls, vibrantly painted furniture or bright decorations being common additions in the Boho interior trend.
That being said, earthy tones, neutrals and warm colours are commonly used in a Boho colour palette, such as brown, orange, yellow, white and green. In addition, jewel tones, such as rich purple and red, can also be found in a Boho space. Metallic tones are also common, with copper, brass and gold elements found across this interior trend. 
Boho Colour Palette Ideas
Contrasting neutrals - brown and rust tones paired with white and cream.
Earth tones - muted tones with brown undertones, like rust, terracotta, turmeric, sage, and marigold.
Pink and Green - adding a youthful vibrancy, pink and green pair well together and work with rattan furniture and plenty of plants. 
Navy and Neutral - deeper shades of blue work well with neutral and grey shades for a modern take on the Boho trend. 
Boho Variations
As with many trends, there are plenty of variations of the Boho trend, where the style has merged with other interior styles. Examples of this include:
Scandi Boho
For a collision of Scandi and Boho styles, keep walls white, furnishings and fabrics neutral, with wood-based furniture, then add in some classic Boho elements, like natural woven baskets, rugs and wall hangings. 
Beach Boho
Combining beachy with Boho, the coastal aesthetic works well with Boho elements, as they both offer breezy, eclectic displays of colour, pattern, texture and trinkets. Natural woven elements, like seagrass decorations and wicker furniture, will work wonderfully alongside a white and blue beachy colour theme. 
Rustic Boho
It can be easy to combine rustic and Boho styles, as they can both share a neutral colour scheme and use of wooden elements throughout the design styles. 
Add a Boho hint to a rustic space by adding a geometric rug to a farmhouse living room, or add pale pink, light wood and hessian accents to a Boho room for a rustic fusion. 
Boho Glam
Bring extra glamour to a Boho space with velvet furniture, jewel tones, bold patterns and gold accents. 
Industrial Boho 
A sleek approach to the Boho trend, adding in metallic elements, unique statement furniture and industrial style lighting can bring a refined aesthetic to your home. 
Tropical Boho 
For Tropical Boho, plants are the priority. Aim for a jungle aesthetic, with a mix of larger plants, like palms, monstera and yucca, for the floor, combined with cacti, succulents and ferns across shelves and on coffee tables. Add to the aesthetic by hanging planters from the ceiling and growing ivy along walls.
Add plenty of green tones to the decor, and don't be afraid to use leaf and palm prints across textiles. 
Ready to add the Boho feel to your home? Browse our range of Boho furniture and find those finishing touches for your interior. 
Comments (0)
No comments at this moment
New comment