When you have a particular vision in mind for your home, such as an interior trend you would like to follow, it can be difficult to find furniture to fit your chosen aesthetic. The furniture you choose can make or break your style; for example, a modern plastic-coated flatpack bookshelf is going to look out of place in an industrial-themed room and could spoil the vision.
If you're after furniture inspired by the industrial trend to complete your interior, then take a look at our collection of industrial style cabinets to help inspire you. 
Materials for Industrial Cabinets 
When we think of the industrial trend, black-painted metal, raw exposed wood, and vintage-style glass are some of the key elements of the style, especially for larger furniture pieces like cabinets. Here at Accessories for the Home, we stock a curated range of industrial cabinets from some of the best furniture brands to help complete your industrial interior.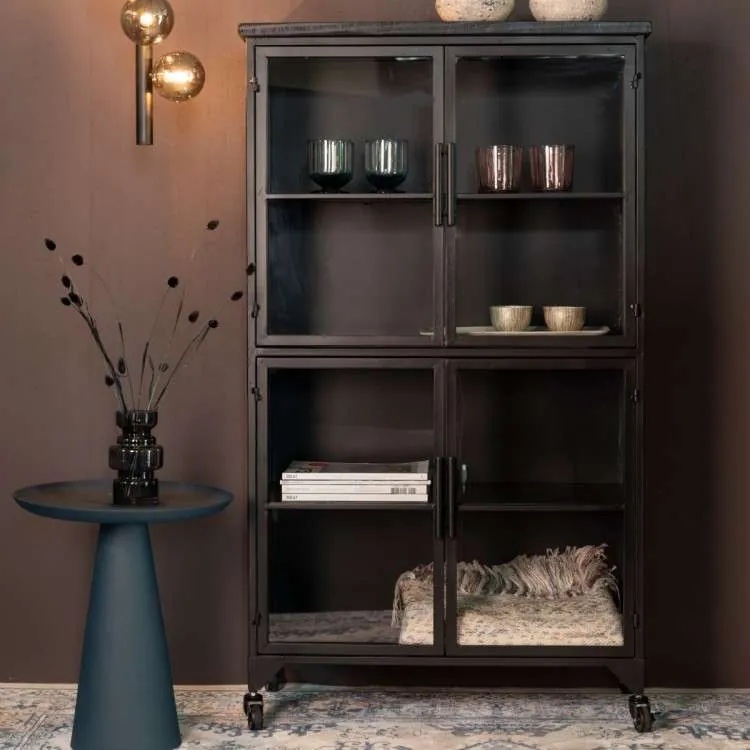 Ferre Large Iron Cabinet
This cabinet from Ferre is crafted from black metal, black fir wood, and glass doors - all quintessential materials in the industrial trend. 
The Ferre Large Iron Cabinet features two sections, giving an 'upstairs-downstairs' design with four doors, allowing you to use this cabinet to store different items or for multiple functions. The glass doors let you show off what's inside, making this an ideal choice for a display cabinet. 
Whether you want to use it to store cups in the kitchen, show off trinkets in the living room, or stack books or blankets in the bedroom, this cabinet offers versatility and can work in any space for an instant industrial feel. 
A further bonus of this cabinet is the fact that it is set on wheels, with two lockable castors, allowing you to move this piece with greater ease than most industrial-style furniture.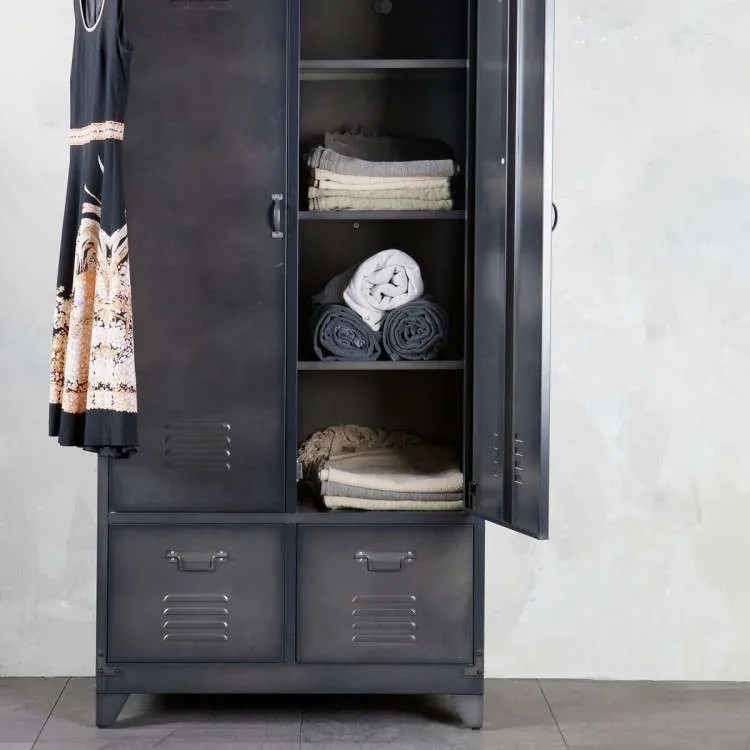 ​​Black Metal Locker Cabinet
Want to add an industrial feel to your bedroom, dressing room, or hallway? Our black metal locker cabinet is the perfect addition to bring that industrial aesthetic to your space. 
The cabinet features hanging space, shelving, and two drawers, making it ideal to use as a compact wardrobe, linen storage space, or boot cupboard. 
A unique item, this cabinet resembles an industrial gym locker and can work as a statement piece in your room.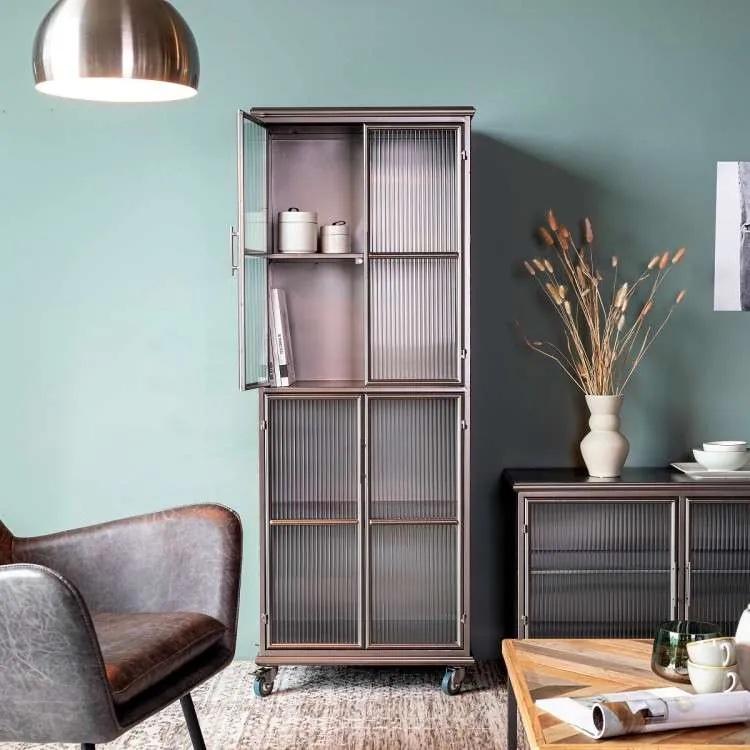 Jiro Ribbed Glass Display Cabinet
If you're after a statement storage piece for your industrial style living space, look no further than the Jiro Ribbed Glass Display Cabinet. 
With ribbed glass and gun metal coloured iron, it oozes industrial chic. The glass design makes it so you can only catch a glimpse of what's inside, making this an intriguing focal point.  
It offers plenty of space for you to organise your belongings, plus it stands on castors with brakes, making it easy for you to find the right space for this cabinet in your home and move if you feel the urge to rejig the layout of your room.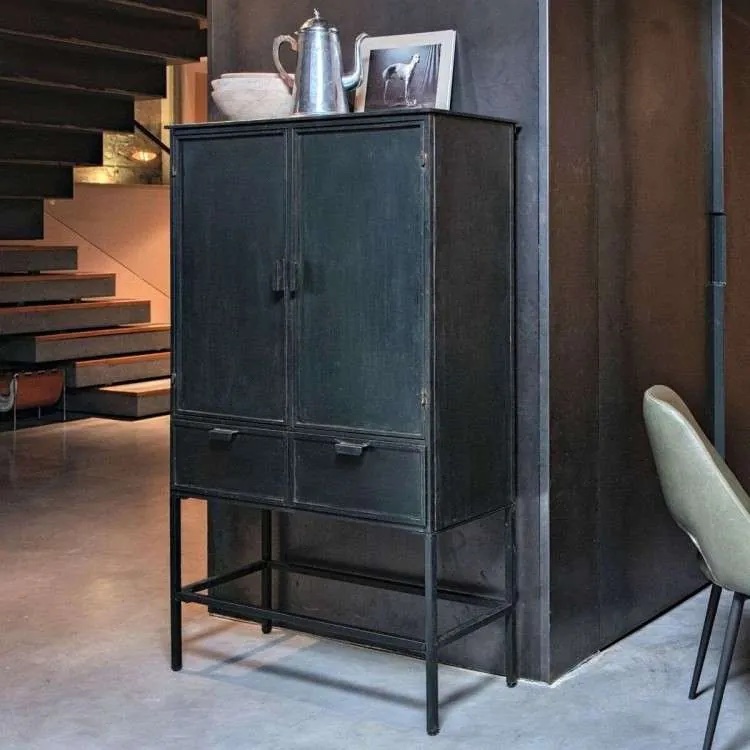 BePureHome Wish Black Metal Cabinet
If you're after a slightly smaller cabinet, then the Wish Black Metal cabinet from Dutch design house BePureHome is a great pick, as it features a slimmer profile than other cabinet styles. This allows for greater versatility in what you can use it for, as it will be able to fit into more spaces of your home. 
The cabinet is iron, painted black, with a worn look, making it right at home in an industrial interior. It is set on a high frame, with a roomy cabinet and two drawers, providing ample space for your things. 
Unlike many trendy cabinets, the doors and drawers of this piece are solid metal and cannot be seen through, allowing you to use this cabinet for storing items you don't want out on display without compromising on your aesthetic.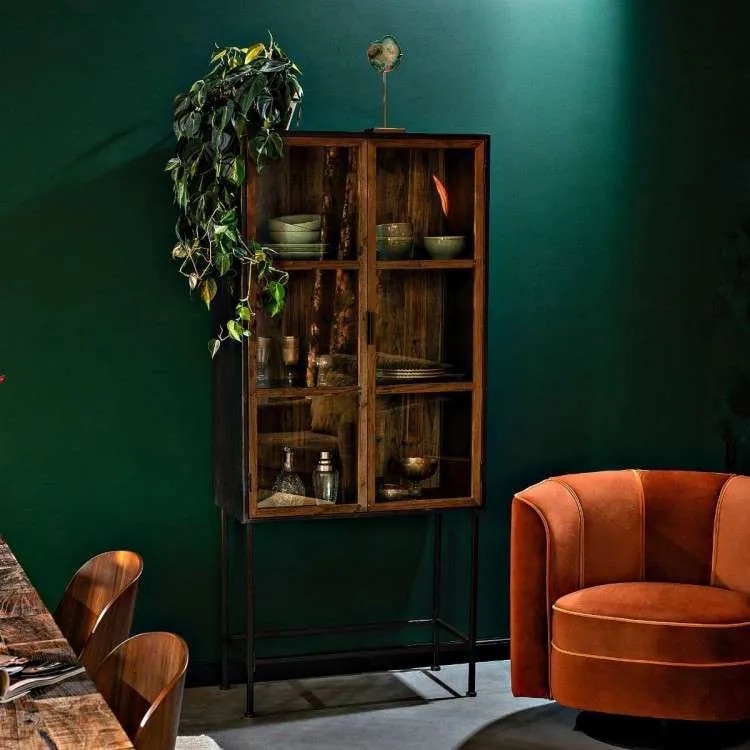 Dutchbone Berlin Recycled Wood Cabinet
For a softer take on the industrial trend, the Dutchbone Berlin Recycled Wood Cabinet provides the perfect balance between modern natural and raw industrial aesthetics. 
The aged look of the wood combined with the black iron framework brings an unmistakably industrial feel to your space, which is toned down by the warmer tones of the wood for a subtler design or industrial touch to a vintage inspired space.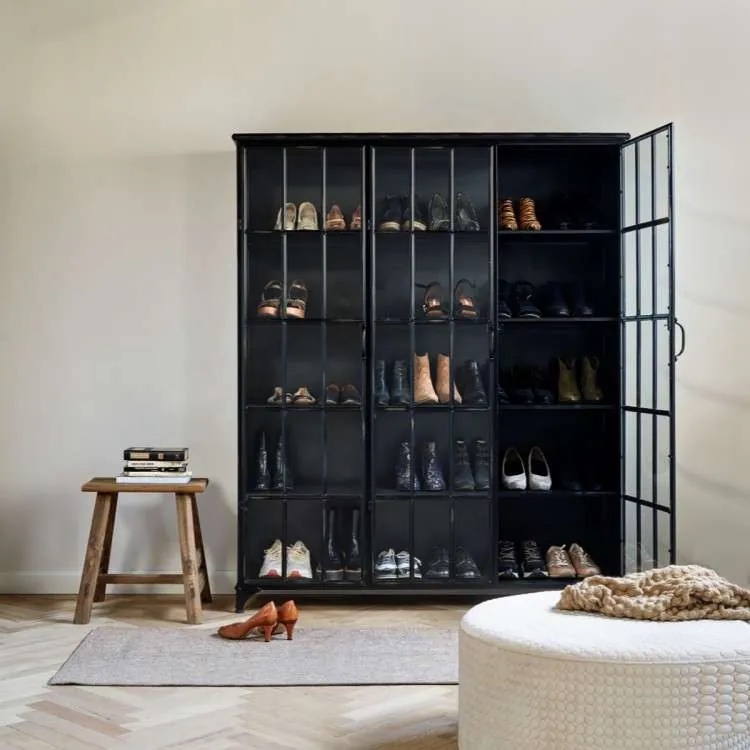 Nordal Downtown Large 3 Door Iron Display Cabinet
Need the most storage space you can get? Our Nordal Downtown Large 3 Door Iron Display Cabinet certainly doesn't scrimp on space! 
The cabinet is made with classic industrial style black painted iron, with glass doors, perfect for showing off your favourite things. With three doors and four full-width shelves, there is plenty of space for you to store your treasures.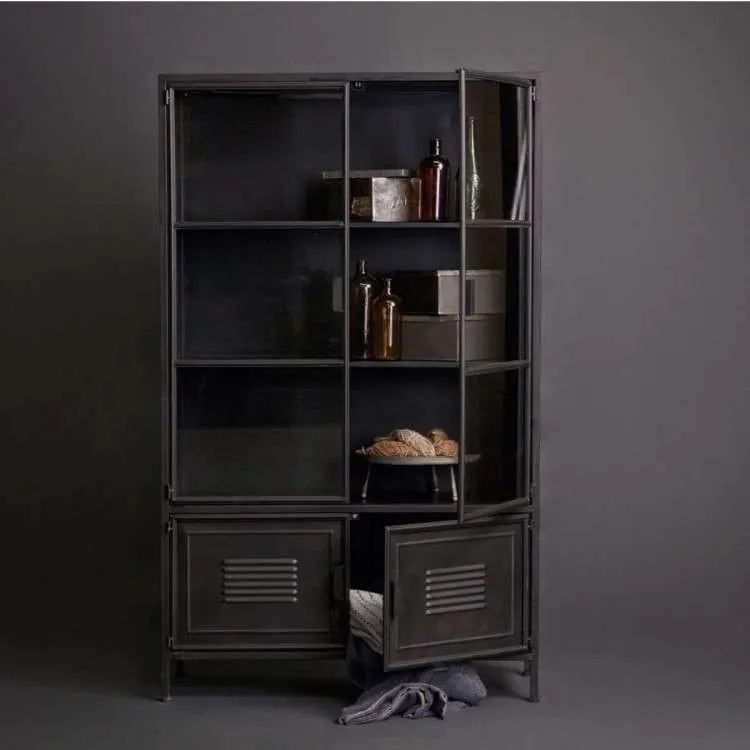 Woood Ronja Black Metal Display Cabinet
Bringing the best of both designs together, the Ronja Black Metal Display Cabinet from Woood has both a three-shelf display cabinet behind glass doors and cupboard space beneath, hidden behind locker-style doors. 
This design allows you to show off your finest things at the top and hide away things you don't want to show off beneath. 
The combination of the black metal frame, locker doors and glass all contributes to a classically industrial vibe. 
We hope these cabinets have inspired you to find the style you are looking for when designing your industrial interior. If you'd like more help finding the right furniture for your industrial style home, then please feel free to get in touch with us! 
Comments (0)
No comments at this moment
New comment